Vizva AgroTech is dedicated to Revolutionizing Agriculture through Innovative Vertical Hydroponic Greenhouses.
We are committed to Sustainable Food Production, reducing Environmental Impact, and Improving Food Security.
Our Automated Robotic Vertical Hydroponic Greenhouses will represent the Future of Agriculture, combining
Advanced Technology with Eco-Friendly Farming Practices.
The Projects are Designed for Maximum Autonomous Efficiency.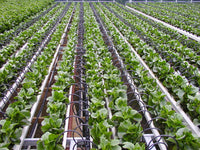 We Plan To Commercially Scale Automated Agriculture